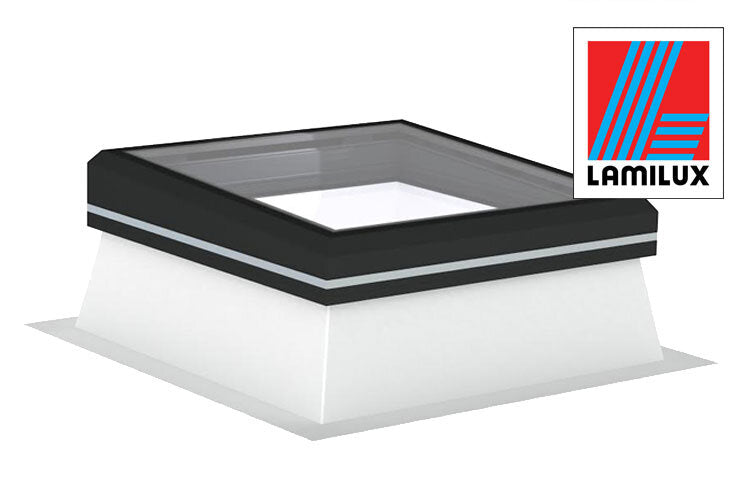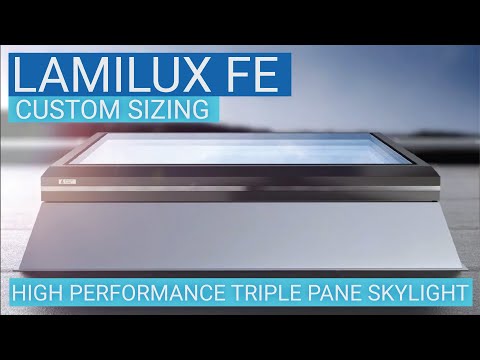 LAMILUX FE 3-Degree
---
The Lamilux FE 3-degree is variant of our best-selling Lamilux FE with a built-in 3-degree slope for water drainage.
A triple pane skylight with thermal bridge free frame to optimize the performance of your Passive House and High Performance construction, the FE 3-degree is sure to meet your performance requirements.
• Kink free isotherms maximize the efficiency of the installed skylights and minimize heat loss and risk of condensation. This fine tuned and engineered solution from Germany minimizes losses and maximizes the amount of daylight provided
• Built-in 3° pitch with outer pane of glass that overshoots the frame, eliminating standing water on the glass at frame edge, eliminating the need to pitch unit beyond 1/4:12″, Max roof pitch 25° (5.6:12 pitch)
• Can be installed in roof pitches as low as 3°, >5° recommended to keep glass clean. Max roof pitch 25° (5.6:12 pitch)
• Visible part is cold rolled aluminum finish.
• RAL powder coating of skylight frames in color of your choice
• Glass size/opening at top of curb frame 32" × 52″ (820mm x 1320mm)
*Size sheet for all sizes available for download at the bottom of the page
• Custom sizes available (request a quote)/ Contact us for custom sizes
• Upstand of 7 7/8″ (200mm) insulated with 2 3/8″
(60mm) PU foam
• Uglass: 0.11 BTU/hr.ft2.°F (0.6 W/m².K)
• SHGC: 0.32 (as high as 0.49 by special order)
• Visual Transmittance: 0.60
• For stock units: Unit fixed with one white Z-clip on interior of curb

• The FE is available in custom sizes, up to 10' (3048mm) in length with a variety of accessories, including manual and motorized ventilation with options for concealed hardware; reflective interior curbs; integrated LED lights; and interior and exterior shading.